We specialise in machinery automation in the paper, corrugated & solid board converting industry, using diverse technologies, robotics and accurate product placement systems for a range of clients in the UK.
The experience of our engineering partners in Industrial Automation over many years producing systems & special purpose machines is based upon a sound understanding of our best automation techniques and knowing the benefits that are possible…!
Integrating different technologies into the design that will reduce product cost and enabling improved overall quality and productivity in your application.
Here is a part view of the inside of a modern plc control panel;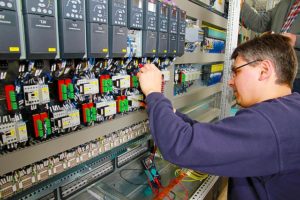 With many of our special purpose machines we integrate robotic handling, through plc and or PC control systems, that operate electro-mechanical and pneumatic positioning systems that increase consistency & accuracy of repetitive feeding and stacking operations that historically have often been carried out by manual labour resulting in an increase in speed of the production processes.
Now more than ever before competitive manufacturing business that wish to stay profitable and lean must take advantage off automation where ever possible to maintain & outperform their competitors.
With the wide spread use of computers in industry today many more automated opportunities could be utilised involving not only the factory floor machinery.
But also many other processes that are esssential to maintaining operational requirements for production, such as sales tasks, product design, order fulfilment, warehouse tasks & production material workflows between different machinery processes.
Automation is one of the top key benefits that any company can implement or expand on to help stay ahead of it's game and remain highly efficient in its overall objectives!
The fact is any enterprise that wants to keep competitive will have to invest in automation or get left behind the crowd.
You don't need to start with cutting-edge technology, but; you do need to start?
To find out how our automation expertise could benefit your project you can email your enquiry or contact us.